Cocosoco: Telepresence Chat App
Cocosoco is a simple telepresence tool for communicating information while sharing live webcasts using a smartphone or laptop.
The ability to display pointing icons in the live video feed allows participants to indicate "here," "there," and "that" as a means of communication, which is not possible with conventional online videoconferencing tools. By using these demonstratives, users can enjoy a natural conversation as if they were in the same place.
Furthermore, as features unique to a digital tool, it allows users to share a bird's-eye view of a place by plotting the location of the live video on a map as location data, to engage in conversation while zooming in on distant locations, and to anonymously express a small interest or concern.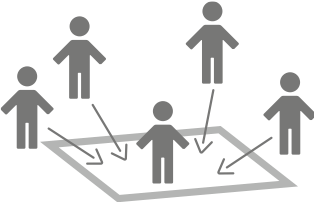 Pointing icons allow participants to communicate with each other using directives such as "here" and "there." You can see who is pointing by looking at their avatar on the icon.
Viewing live broadcasting footage and geolocation information simultaneously enables spatial understanding from both subjective and objective perspectives.
When the live broadcaster pinches the screen out, the live image is also zoomed in. Whenever they want to draw attention to a distant location, they can point and talk while zooming in.
The LIKE function can be used to express casual interest that does not require pointing.